Always 100% American-Made
Every American flag sold by LIBERTY FLAGS will always be made in the USA.
Please look for The American Wave® wherever you see the LIBERTY FLAGS brand. It's your assurance of the highest quality American-made products and ethical business practices.
American Flags
Commercial Flagpoles
Residential Flagpoles
United States Military Flags
State Flags
Custom Flags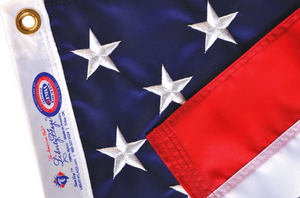 Tulsa's official City Flag is the outcome of Tulsa's entrepreneurial culture. Designed by Jordan Winn, the bold graphics join symbols of the City's history and future into the new flag.
Blue symbolizes the Arkansas river, a yellow horizontal line represents 1901 oil discovery, the shield represents Native American tribes, red honors the lives lost in the 1921 Tulsa Race Riot, the star represents Tulsa's bright future and beige symbolizes warmth and community.
Tulsa Flag
New items and sizes available. Take a look.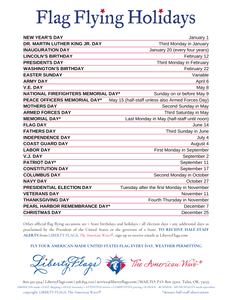 Download The Flag-Flying Holidays Guide
The American Flag can and should be flown every day the weather permits, from sun up to sun down. There are special Holidays and events on which the flag should be displayed in celebration or remembrance.
Download a free copy of our popular updated Flag Flying Holidays list here.